Furnace Repair & Replacement in Yonkers, New Rochelle, White Plains, Scarsdale, Chappaqua, Mount Vernon, Rye
Furnace Installation in Westchester & Putnam County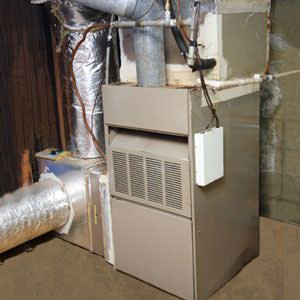 This low efficiency furnace sends much of the heat from burning gas up the chimney and needs a metal exhaust pipe to a chimney.
A furnace heater distributes hot air with a ductwork system all throughout the house. A large fan in the furnace blows heated air through supply ductwork to be distributed throughout the living space. At the same time, the fan pulls cooler air back to the furnace through return ducts, so the air can be reheated.
Furnace Repair, Replacement & Installation By Fuel Type
For many homeowners, the type of furnace installed in your home depends on the type of fuel that is available locally. However, it is possible to switch fuel types when installing a new furnace. For example, you could replace an oil furnace with propane or natural gas furnace, if these fuels are available locally.
Heating and cooling systems are the biggest energy expense in most homes, accounting for 40%-50% of total energy expenses. It's important to understand that just because you buy a new furnace, doesn't mean it's high efficiency; just like you can buy a new car that gets you lower gas mileage doesn't make it a hybrid. The cost of the fuel it takes to run the furnace during its lifespan is huge compared to the cost of the furnace itself. It is well worth it to install the highest efficiency furnace you can get. It costs a bit more, but it will pay for itself many times over.
Call or email today to schedule an appointment for repairing, replacing or installing a furnace heater in Yonkers, New Rochelle, White Plains, Scarsdale, Chappaqua, Mount Vernon, Briarcliff Manor, Rye, Armonk, Larchmont, Mahopac, Yorktown Heights, Port Chester, Katonah, Ossining, Carmel, Peekskill, Tarrytown, Mamaroneck, Purchase, Waccabuc, Bedford, Pound Ridge, Harrison, Cortlandt Manor, Pleasantville and the neighboring cities! We are the best and most trusted HVAC repair contractor in Westchester & Putnam County. Installation and replacement estimates are free. Our repair and maintenance services come with a minimal fee.
Choose the Right Furnace in New York
Choosing the right furnace may seem daunting without the right facts and contractor. Dr. Energy Saver Westchester is the local Trane® furnace dealer in Westchester & Putnam County and we aim to only provide the best replacement and installation services. As such, we proudly install all top quality and trusted brands of furnaces. Whether gas, oil, or electric, we install and replace them all. Some of the brands we know and love are: Trane®, Carrier, Goodman®, Luxaire®, Amana®, and more!
Trane® Furnace: The Trane furnace is always reliable and provides heat on demand. They offer oil, gas, heat pump, and other styles of furnaces.
Carrier Furnace: This is your brand for advanced technology and energy efficiency. Carrier provides gas and oil furnaces.
Goodman®: They have been a trusted brand for heating and cooling resources since 1982. They offer premier gas furnaces that are modern and of the highest grade performance.
In addition to being classified by fuel type, furnaces are also described in the following ways:
BTU output. The heat output of a furnace is listed in thousands of btus (80,000btu, for example) and denotes the amount of heat energy the appliance can produce.
Annual Fuel Utilization Efficiency. A standard measure of efficiency for furnaces, AFUE tells you the percentage of input energy the furnace can convert to output energy for warming your home.
Configuration. A "high-boy" furnace is a tall model with the blower located under the heat exchanger. A "low-boy" furnace has the blower in back of the heat exchanger, making it shorter.
Combustion. A "sealed combustion" furnace, also known as a high-efficiency furnace, requires no chimney and no indoor air for combustion. Instead, outside air is brought in through a small pipe to provide oxygen for combustion, and flue gases are piped directly outside. Old-style "atmospheric combustion" furnaces require a chimney and rely on indoor air for combustion. A sealed combustion furnace is more suitable for a tight, well-insulated house.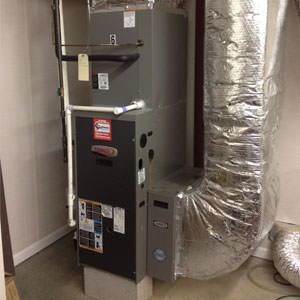 This 96% efficient gas furnace only sends 4% of the heat out the chimney so it can use a pvc (plastic) exhaust pipe out the side wall of your home. Many design differences make it "high efficiency."
What Does "Efficiency Rating" Mean?
A furnace boiler or water heater burns fuel to generate heat and needs to put that heat into an air stream in your ducts, or into water in your pipes. The efficiency rating is what percentage of that heat gets into your air or water.
What happens to the rest of the heat? It goes up the chimney and is lost into the sky. Therefore, a 15-year-old furnace that is 65% efficient is putting 35% of the heat you paid for up the chimney.
A 96% efficient furnace only "wastes" 4%! A big difference! And since the cost of the fuel you put through a furnace, boiler or water heater during its lifetime is much greater than the cost of the unit itself, it's worth it to install the very highest efficiency equipment available! Let Dr. Energy Saver accomplish this in your home!
Dr. Energy Saver Westchester can evaluate your current heating system and provide a free quote on a super-efficient system that will save you money. Call or email today for a free quote for replacement. Our repair and maintenance services come with a minimal fee.
Start Saving Energy and Money With A Furnace Repair or Upgrade.
Contact us today to schedule your appointment for furnace repair, replacement and installation in White Plains, New Rochelle, Yonkers, Chappaqua, Scarsdale, Briarcliff Manor, Mount Vernon, Armonk, Larchmont, Rye, Katonah, Mahopac, Yorktown Heights, Pleasantville, Ossining, Cortlandt Manor, Port Chester, Carmel, Peekskill, Tarrytown, Mamaroneck, Purchase, Waccabuc, Bedford, Pound Ridge, Harrison, and more! We also offer a home energy audit to help identify the areas in your home contributing to discomfort and energy problems. We are your resource for heating repair and more! Installation and replacement estimates are free. Our repair and maintenance services come with a minimal fee.