Air Sealing Contractor White Plains, New Rochelle, Yonkers, Scarsdale, Chappaqua, Mount Vernon, Briarcliff Manor, Rye
Testing & Sealing Air Leaks in New York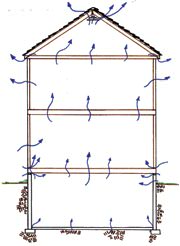 If you feel your home has become very drafty or you've noticed that some rooms aren't the desired temperature, look no further for a solution-- Dr. Energy Saver is your local air sealing company. Our company provides professional air sealing and testing services in the Westchester & Putnam County, to help homeowners live more comfortably and efficiently.
Benefits of air sealing your home:
Improved home comfort
Lowers monthly utility bills
Improves home air quality
Prevents moisture build-up
An affordable and permanent solution!
Included with our home energy audit, our energy contractors will use professional equipment to help locate and determine the most cost-effective leaks in your house that may exist in your ducts, windows, attic, and elsewhere in the home.
Contact us today to schedule a free air sealing estimate in your home. One of our energy contractors will visit your home and thoroughly inspect your home environment and find out what's causing your home discomfort. Not only that, we can provide all the necessary services to help your home get back to a comfortable environment.
Air Leaks Cause Uncomfortable Drafts & Decrease Energy Efficiency of A Home
Your home may have hundreds of small cracks, gaps, and holes throughout the house that continuously allow heat to escape from your conditioned space into other areas of the home. With our blower door test and home energy audit, we can quantify how much air is leaking out of your house and pinpoint the largest energy wasting leaks in your home.
We proudly offer our affordable services in and around Yonkers, New Rochelle, White Plains, Scarsdale, Chappaqua, Mount Vernon, Briarcliff Manor, Rye, Armonk, Larchmont, Katonah, Mahopac, Yorktown Heights, Pleasantville, Ossining, Cortlandt Manor, Port Chester, Carmel, Peekskill, Tarrytown, Mamaroneck, Purchase, Waccabuc, Bedford, Pound Ridge, Harrison, and more!
Air Leakage = Energy Loss & Increased Utility Bills
What is the "Stack Effect"? - The laws of convection cause warm air in your house to rise. As warm air rises, it moves up through the attic, passing through dozens of cracks and openings. When this air is lost, new exterior air is pulled in from the basement, crawl space and other areas of the home. This cycle of heating and cooling replacement air and then losing it again is known as the "stack effect"
Leaks cost you money - If your house leaks air, you're left with the unfortunate task of continuously paying to heat, cool, and dehumidify air from the outside. Air leaks not only keep your checkbook open, they are an enormous waste of energy, making it much more costly to keep your house comfortable.
Air Sealing Your Home for Energy Savings
High energy bills and ice dams are some of the problems caused by air leakage and poor insulation in this cape house. Watch this video to see how the right air sealing and insulation methods can make your home comfortable and efficient.
How Do Your Know If You Have Air Leaks In Your Home?
A telltale sign of a leaky home is when your fiberglass insulation is stained with dirt. The dirt stains on the insulation show that the insulation is actually acting as a filter, trapping the dirt and dust the same way a furnace filter would. If you see dirt-stained insulation, you can be sure that your house is leaking air!
Joints are leaky - Your home is made from thousands of pieces and parts, from nails and 2x4s to window casing, electrical wire and drywall panels. Small gaps and cracks occur wherever one part of your house joins another.
To make matters worse, many joints that are tight initially don't stay that way. Even before a house is completely built, wood starts to shrink, materials expand and contract at different rates, and connections work loose. Many of these cracks and gaps become leakage points that need to be sealed in order to save energy and save money.
Contractors Create Air Leaks In Your Home
Leaks are built into the construction process of your home. As soon as the framing crew is finished nailing together all the studs, joists, beams, and rafters that make up the house shell, other contractors come in and start cutting it apart.
Plumbers, electricians and HVAC contractors apply their drills and saws to make room so that heating ducts, electrical wires, water lines and waste pipes can be run throughout the house. The resulting holes are normal and don't compromise the strength of a house, but they do create hundreds of leakage points that can allow inside air to leak out and out air to leak in.

Gaps in your home can be small, such as the ones found around an electrical outlet in an exterior wall. However, large openings are also common, such as the ones created by plumbers in floors and framing as they install pipes, or the long gaps like the one created when a cantilever soffit does not meet the exterior wall in an airtight connection.
Don't Insulate Your Home Before Air Sealing!

There are many air leaks where heat from your house can leak out of the house into the attic. If you insulate without air sealing first, the air will just leak right through the insulation! Insulation does not stop air flow! To make matters worse, now all the air leaks are buried underneath all the insulation, making them harder to reach.
Air sealing should always be done before and with insulation! Dr. Energy Saver Westchester does both air sealing and insulation.
Common places that need to be sealed:
Around pipes and Wires
Around Chimney
Duct Chases
Between framing and drywall at the top of walls
Can lights
Pull down stairs and scuttle holes
Rim joists and sill plates

Sump pump holes
Basement windows
Windows and doors
Under sinks- plumbing penetrations
Bath fans
Whole house fans
And many, many other places!
Air Sealing is Affordable & Permanent
Dr. Energy Saver says...
Air sealing your home is a "once-and-done" lifetime repair. There's nothing to maintain or replace once the process is complete. All that's left to do is enjoy the savings and comfort for as long as you own your home!
Sealing air leaks that appear in a home's building envelope is a process called, "Air Sealing". When applied throughout a home, energy wasting leaks are permanently sealed, increasing the comfort and energy efficiency of the home, while decreasing fuel bills. Air sealing is so effective that your home can reduce its heating and cooling utility bills by 20% or more!
However, finding and sealing air leaks is much easier said than done. Locating these air leaks requires special equipment, training, and access to parts of the house a homeowner would generally not be able to (or want to) reach.
Once the air leaks have been located, it's also important to select the best products and practices to properly air seal these areas. Don't let a leaky home make you uncomfortable - call us, Dr. Energy Saver, for our professional air sealing solutions and services.
No more leaks! - Our company recommends using a two-part foam for many air sealing tasks around the home. The mixture of the foam leaves the nozzle in liquid form, expanding rapidly to fill and adhere inside cracks and gaps. As it cures, the foam will create a barrier that is both airtight and functional as insulation.
Air Sealing Pays Off
With Dr. Energy Saver Westchester, you won't need to wait to see the difference in energy efficiency in your home. Air sealing is not only affordable, it's highly effective. After air leaks are properly sealed you can be sure that your home is not wasting energy like it used to - with less dependency on your heating & cooling systems you can live comfortably at a better price.
If living uncomfortable has gone too far for your liking, then contact us today. By having our company diagnose your home with our comprehensive home energy audit, we can find out where your home leaks air and permanently seal them to help you save money and live more comfortable.
We are your trusted air sealing contractor serving New Rochelle, Yonkers, White Plains, Chappaqua, Scarsdale, Briarcliff Manor, Mount Vernon, Armonk, Larchmont, Rye, Katonah, Mahopac, Yorktown Heights, Pleasantville, Ossining, Cortlandt Manor, Port Chester, Carmel, Peekskill, Tarrytown, Mamaroneck, Purchase, Waccabuc, Bedford, Pound Ridge, Harrison, and the surrounding areas!
Live more comfortably with an air sealing upgrade
Call or contact us online to schedule a free home inspection and air sealing estimate.