Water Heater Repair & Replacement in Yonkers, New Rochelle and White Plains NY
Contact Us For
An Estimate
Privacy Statement: Your information will be kept confidential and will not be shared with any third parties.
Why Homeowners Choose Us For Their Water Heater Services
Building Performance Institute (BPI) Certified Professional
Insulation wraps for tank heaters and pipe insulation
Detect and protect against leaks
Read All About
Home Insulation
in your FREE book when you schedule a Free Estimate »
How Energy Efficient Is Your Home's Hot Water Heater?
There are many factors that affect water heating efficiency. Know what type of water heater you have is the major determinant. Other factors include the heater's condition, the level of insulation used on the heater and hot water lines, and the temperature settings that you have it set on.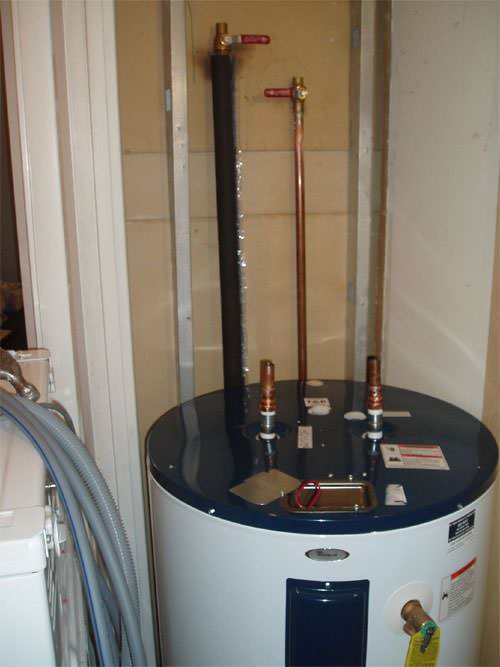 An electric water heater doesn't have an exhaust flue at the top, and cost the most to run.
Dr. Energy Saver Westchester can help you save hundreds of dollars annually by recommending an upgrade or a replacement for your current water heater. With new water heating technologies, your monthly utility bills can be affordable for the whole family. Also, you will stop worrying about running out of hot water or having your old water heater spring a leak!
Benefits of upgrading your water heater:
New, high-efficient models are about the size of a suitcase!
On-demand water heaters will never run out of hot water
Unlikely to leak from corrosion
Long shelf life - equipment can last longer than 20 years
Eliminates stand-by heat losses - significantly reducing energy usage
Does your home frequently run out of hot water in the morning? If so and you have a older tank-type water heater in your home, call Dr. Energy Saver today, your home may be eligible for a water heater upgrade. One of our in-house water heater specialists will examine your equipment and provide the necessary recommendations for your home. Newer equipment can reduce monthly energy bills by eliminating standby heat losses and they never run out of hot water!
Dr. Energy Saver Westchester is your local energy conservation company, helping homeowners live more efficiently and comfortably everyday.
Tank-type water heaters
If you have a tank-type water heater that's more than 10 years old, wasting energy isn't your only concern. Older tank-type water heaters corrode from the inside and eventually begin to seep water. Beneath a solid-looking exterior, the inner wall of an older tank can be badly corroded.
If you're lucky, you'll notice a small leak in time to have a new water heater, such as a tankless water heater, installed. If not, extensive water damage is a possibility.
Tank-type water heaters are usually reliable when they are in a good condition, and new ENERGY STAR® models are even quite energy efficient. Our qualified contractors will make sure that your water heater is the most energy efficient for you specific situation.
Contact us to schedule an estimate for water heater installation in New Rochelle, Yonkers, White Plains, Chappaqua, Scarsdale, Briarcliff Manor, Mount Vernon, Armonk, Larchmont, Rye, Mahopac, Yorktown Heights, Port Chester, Katonah, Ossining, Carmel, Peekskill, Tarrytown, Mamaroneck, Purchase, Waccabuc, Bedford, Pound Ridge, Harrison, Cortlandt Manor, Pleasantville, and all surrounding areas.
Information on water heater types
Water heaters can be powered by fuel oil, natural gas, solar energy, propane, or electricity energy. In addition, a water heater can come in a variety of sizes and therefore prices. It's a good idea to find out what size water heater would be best for your home so that it can work efficiently, instead of negatively affecting your heating costs.
There is also a choice between a tankless and a tank-type water heater. Here at Dr. Energy Saver Westchester we offer both tankless and tank-type water heaters. We provide GE, A.O Smith, Rinnai, Bradford White, RUUD, Navien, and Noritz.
These water heaters are a great choice for any homeowner looking to improve the efficiency of their home water heating. Be sure to record the type of fuel, cost, size, energy efficiency, and annual costs when looking to replace your water heater.
To learn more about how different water heaters work and what options are best for your home when you're replacing an old water heater, contact us today. We can help with anything you need!
Below are the five different types of water heaters available for homes:
Click on the type you're interested in to learn more.
| | | | | |
| --- | --- | --- | --- | --- |
| | | Indirect Water Heaters | | |
Professional water heater installers in Westchester & Putnam County
Call or contact us online to schedule a free home inspection and water heater estimate.